Community Origins
Communities
Hazzanut History of Brooklyn's Syrian Community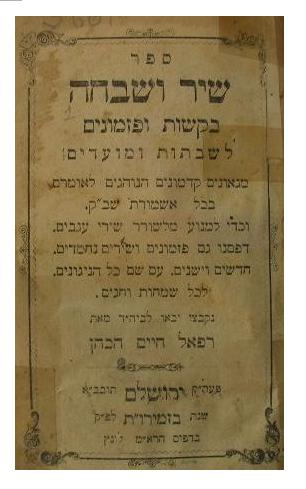 In "Ohel Yesharim" (Livorno, 1822), by H Abraham Antebi (1765-1858), the chief rabbi of Aleppo, there is a final chapter called "Sha'ar HaShir," where he discusses the problem of people going out to cafes to listen to secular Arabic/Turkish music. To combat this, he wrote pizmonim set to the popular Arabic melodies. Similar words were written by Hakham Mordekhai Abadi (1826- ) in his "Sha'ar HaShir" which served as an introduction to "Miqra Qodesh" (Aleppo, 1873). These concepts were reiterated by H Yosef Yedid Halevi (1867-1930) in his approbation to H Moshe Ashear's 1928 pizmon book "Hallel VeZimrah." Rabbi Dr Jacob S Kassin, chief rabbi of Brooklyn's Syrian community, wrote a similar message in his (1964) introduction to "Shir Ushbaha Hallel Vezimrah" called "Sha'ar Hashirim."
The exact details of how our Sephardic Hazzanut gradually originated are unknown to us.
Many piyyutim (liturgical poems) are found in Mahzor Aram Soba 1527 and 1560, but there is no indication that these piyyutim had different melodies, specifically the melodies of secular Arabic songs. Over time, the use of piyyutim got eliminated from the prayers, except for the High Holidays.
Earliest forms of Syrian pizmonim are from H Israel Najara of 17th century Damascus. In Najara's pizmonim book, "Zemirot Israel," each pizmon is categorized by maqam and contains a "Lahn" to indicate the melody to use for the pizmon.
Some of the names that we know of from 19th century Aleppo are: H Ezra Attiah (Sassoon Manuscript #609), H Mordekhai Labaton, H Abraham Antebi ("Ohel Yesharim"), and H Mordekhai Abadi ("Miqra Qodesh"), H Yosef Sitehon, H Ya'aqob Abadi, H Shaul El-Abyad, H Eliahou Dahab, H Eliahou Hamaoui, H Abraham Sitehon, H Shemuel Moursiyeh, H Menashe Sitehon, H Eliahou Sasson, H Yehudah Attieh, H Nissim Lofez, H David Kassin, H Ezra Swed, H Shelomo Menaged, etc.
Many handwritten pizmonim manuscripts from the 19th century are available to us, and in these manuscripts there are hints as to what customs prevailed in Aleppo's Jewish community. For example, in some of the earliest Aleppo pizmonim manuscripts, such as Sassoon Manuscript #647 (Aleppo, 1850), there are lists of certain pizmonim to get allocated according to the content of that week's perasha. In this same manuscript, there are some lists allocating which maqam to apply for Shabbat and certain holidays. In addition, this manuscript provides pizmonim application lists in different maqamat for the seven sections of the Shabbat and Holiday prayer: Nishmat, Shav'at Aniyim, El Hahodaot, Qaddish, Semehim, Mimisrayim, and the Qedusha. The maqamat used for applications were more specific and diverse than what is in active transmission today. Examples of the older maqamat used in the manuscripts include: Mahwarna, Arazbar, Bousaliq, Niriz, Nagriz, Nahoft, Tahir, Isfahan, Moustaar, Girkah, Shahawarkh, etc.
The hazzanut traditions of Damascus were similar in some ways to that of Aleppo, but were different in others. The "Maqam of the Week" lists used in Damascus sometimes cite to apply different maqamat than the lists used in Aleppo, but the overall patterns are the same. In regards to the Hazzanut traditions of the Lebanese Jews, they are similar to those of Damascus. In regards to the Hazzanut customs in Egypt, they did not subscribe to the weekly maqam system at all, rather there were set tunes that the hazzan used on a weekly basis and each major synagogue had a choir that performed within the service on Friday nights and Saturday mornings (as well as holidays and other occasions). Unlike the Syrian Jews, the Egyptian Jews accorded more prestige to the recitation of the mizmorim in a very specialized style of improvised chant. In present times in New York, the Egyptian Jews have adapted the Syrian style of prayer and follow the Aleppo listing of weekly maqamat.
The collection of Baqashot, supplementary poems recited early on Shabbat mornings, has evolved for over two hundred years. Close to half of todays Baqashot were written somewhere in the 150 year period from 1765-1915. That's to say that 200 years ago the Baqashot repetoire was a lot shorter or consisted of songs which we do not have today. Some of the oldest poems used in the Baqashot are from pre-Inquisition Spain. Examples include pieces from H Abraham Ibn Ezra, H Solomon Ibn Gabirol, and H Yehudah Halevi. Songs from the 17th century include those from the highly acclaimed H Israel Najara. The Aleppo, Damascus, and Jerusalem versions of Baqashot differ slightly, but the Jerusalem customs are becoming more prevalent due to the very active transmission of Baqashot that takes place in Jerusalem at Knis Ades as well as other synagogues. The Brooklyn community, for the most part, has not continued with their weekly Baqashot practices until very recently.
H Raphael Yisshaq Ades Antebi Tabbush and H Moshe Yosef Ashear Hakohen, both born and raised in Aleppo, Syria, were major contributors to the Pizmonim and Hazzanut tradition of their respective generations. Tabbush and Ashear were in Aleppo as teacher and student during the same years and left Aleppo around the same time period.
H Raphael Tabbush was born around 1854. He was blind from a young age. He was very famous for the pizmonim he wrote. Tabbush had many students. He used to teach in Midrash 'Aboud Harari in Halab and he visited the Talmud Torah often to test out boys that he felt had a capable future in hazzanut and pizmonim. His first book, "Shirah Hadashah," was published in Aleppo, 1888. A larger collection of Tabbush's songs were published in Jerusalem in 1905 and 1921 by H Raphael Haim Hacohen under the title "Shir Ushbaha". Towards the end of his life, he moved to Egypt, and he passed away in Cairo, December 1918 (3 Kislev).
H Moshe Ashear was born at the end of 1877. He was one of Tabbush's favorite and closest students. Ashear wrote down many of Tabbush's songs because Tabbush was blind. In 1904, he became the Hazzan and Qore in Knis Kbireh until 1913 when he moved to New York City. Ashear first published his pizmonim in Jerusalem, 1928, under the title "Hallel VeZimrah". Throughout the next twelve years, for the remainder of his life, Ashear continued to compose many pizmonim in honour of community members special occasions. These pizmonim would eventually get published in "Shir Ushbaha Hallel Vezimrah", 1964.
In Jerusalem 1936, Haim Shaul Aboud, a student of both Raphael Tabbush and Moshe Ashear, published his own pizmonim book, "Shire Zimrah," to reflect the practices of the sister Sephardic community of Jerusalem. Aboud was born in Aleppo, and settled to Jerusalem after a few years in Buenos Aires. This pizmonim book was republished in 1953 and onwards. Haim Shaul Aboud, who passed away in 1977, was considered the Hazzanut leader of Knis Ades, Jerusalem. In Jerusalem of the 1930's, Aboud had a group of students which he assembled into a choir known as "Shirat Sion Veyerushalayim". His top student was H Raphael Y Elnadav.
Syrian Jewish emigration divided them into a few groups: New York City is the largest group, Mexico City, Buenos Aires, Panama City, and throughout Israel. There is very little interaction between the Syrian Jews of New York with those living in Latin America mainly due to the language divide.
At Magen David Congregation of 67th Street, the hazzan was Hakham Moshe Ashear. His two helpers were David Shabot and Shehade Mishan. Shehade Mishan generally hazzened Mousaf. He was succeeded by Naftali Tawil, Nissim Franco, Gabriel A Shrem, Mickey Kairey.
Ashear was getting older and the community did not know who to replace him with. They approached Ashear and he said "What do you have to worry about? Just take Nissim Franco!" Ashear passed away in October 1940 on the second day of Hol Hamoed Sukkot.
Isaac Cabasso's father, Ya'aqob Cabasso was also a student of Tabbush and he accompanied him on numerous occasions from Arab musical venues. When they would leave, Tabbush would compose pizmonim to the songs they just heard while walking home.
According to Aharon S Hamaoui, Rabbi and Cantor of Sephardic Community of Greater Boston, his grandfather, Eliahou Hamaoui was also a student of Tabbush who would escort him and record new pizmonim.
In the 1950's, Eliahu Menaged, also a student of Tabbush, would record many rare pizmonim with his students, Haim Kairey, Mickey Kairey and Isaac Cabasso. Others who recorded materials include: H Ezra Sayegh, Selim Salem, and Ezra A Tawil.
After Ashear passed away, the hazzan of Magen David was Naftali Tawil but that was short lived (who soon after became hazzan at Congregation Ahi Ezer). He was succeeded by Nissim Franco (who was previously at Knis Betesh) who was then succeeded Gabriel A Shrem, who was then succeeded by Meyer Mickey Kairey.
Nissim (Nathan) Franco was born in Aleppo, 1898, and was also a student of Raphael Tabbush. He first officiated at Knis Betesh, then Magen David, then Congregation Shaare Zion until the mid-1950s.
Gabriel Shrem gained knowledge of pizmonim from his uncle Abraham Chehebar, born in Aleppo, while in Cairo. Gabriel Shrem originally was not admitted into the United States due to an eye condition, common in Egypt, called Trachoma. As a result, he stayed in Egypt with his grandmother and uncle Abraham Chehebar family, where he learnt pizmonim directly from his uncle. Abraham Chehebar was married to Gabriel Shrem's father's sister, Zaqieh. Shrem briefly studied with Ashear in 1937, and continued to study Ashear's notes throughout his life. Shrem learnt a lot of material from Naftali Tawil and Eliahou Menaged. Gabriel Shrem officiated at Knis Betesh Synagogue, then "Ocean Parkway Congregation" on Kings Highway, then Magen David of 67th Street (1945-1963), then at Congregation Bnai Yosef (until his passing in 1986). Albert Cohen succeeded Gabriel Shrem as cantor at Bnai Yosef. H Mordekhai Nadaf was Ba'al Qoreh at Bnai Yosef in early 1980s. Faraj Samra was Ba'al Qoreh at Bnai Yosef in late 2000s.
At Magen David on Shabbat during Seudah Shelishit, some chairs would be set up by the Hekhal and pizmonim were sung by Abraham Massry and his brother Isaac, Haddad, Mishan, Menaged. If there were any other capable Hazanim, they would join in as well. This custom continues to take place in many synagogues.
The pizmonim tradition was easier to perpetuate during this time period, because the people were more attached to their Syrian ancestry and would congregate with one another on Saturday nights to have Haflah parties where pizmonim would be sung with accompanied music. In addition, there were more pizmonim being sung and taught at Sebbits on Shabbat afternoon.
At Young Magen David, the main hazzan was Ezra A Tawil, and he was assisted by his brothers, Isaac and Moe. The prayers there were always very nice, Isaac Cabasso recalls, especially on the High Holidays. Other helpers there were Jack Abadi and his brother Raymond, as well as Joe Saff. There of course was also Saul Tawil and his brother, Mac Tawil, who read Sefer Torah.
The hazzan at Congregation Shaare Zion was Nissim Franco, then Ralph Marcus, then H Raphael Elnadav from 1960-1979. Mr Edward Farhi and David Shiro are currently officiating in the dome of Shaare Zion. The Ba'al Qoreh of Shaare Zion was Max Ezra Tawil. Cantors of Bnai Shaare Zion are Haim Eliahou and Solomon I Dayan.
The hazzanim at Congregation Ahi Ezer were Naftali Tawil, then Ezekiel Hai Albeg, then Meir Levy. Naftali Tawil passed away at the early age of 61 in 1963. Ezekiel Albeg was a composer of many beautiful pizmonim as well as the editor of Siddur 'Shabbat Shalom' and Mahzor 'Shelom Yerushalayim' (Rosh Hashana, Yom Kippur, Sukkot). Albeg was hazzan at Ahi Ezer, located originally on 71st Street in Bensonhurst, for about 10 years; from circa 1953-1963. Albeg departed from Brooklyn in the early 1980s to live in California. Meir Levy was the cantor of Ahi Ezer after Albeg; from circa 1968 to present. H Jack Maslaton was Ba'al Qoreh.
The cantors at Ahaba VeAhva Congregation of Ocean Parkway were: Yosef "Sou Sou" Hamaoui, ? Azizo, Felix Tourgeman, H Shimon Alouf, Shamoula, Jack Salama, Emanuel Shalom.
The cantors in Congregation Kol Israel were Mr Joseph Ben Haim, Yair Hamra, Shelomo Shemer.
The cantors in Sephardic Synagogue (Avenue R) were: Eli Marcus, Murray Dweck (first minyan), Joseph Mosseri, Victor Esses. Ba'al Qoreh: Abe Zami, Steven Salem, Nathan M Dweck.
Isaac Cabasso, cantor of Congregation Beth Torah since the 1960s, was approximately 15 years old when Ashear passed away in 1940. According to Eli Moshe Ashear, Isaac Cabasso's style of hazzanut is most similar to his father's style. Yehezkel Zion is also the cantor in Congregation Beth Torah.
Our "Shir Ushbaha Hallel VeZimrah" (New York, 1964) is an anthology of pre-existing works; mainly "Shirah Hadasha" (Aleppo, 1888) by Raphael Antebi Tabbush, "Shir Ushbaha" (Jerusalem, 1905, 1921) by Raphael Haim Cohen, "Hallel VeZimrah" (Jerusalem, 1928) by Moses Ashear, and "Shirei Zimrah" (Jerusalem, 1936, 1953) by Haim Shaul Aboud. The publication of "Shir Ushbaha Hallel VeZimrah" was a major community project. In the late 1950's, a committee was formed by the Magen David Publication Society (eventually to become the Sephardic Heritage Foundation), to create a new pizmonim book to better reflect the community of Brooklyn and to preserve the many pizmonim that has been accumulated over the years from various community member family occasions. The people listed by Gabriel A Shrem, editor-in-chief, as being part of the pizmonim book committee were: Rabbi Dr Jacob S Kassin, Hazzan Raphael Yair Elnadav, Hakham Ezra Mishaniye, Hazzan Ralph Marcus, Hazzan Ezekiel Hai Albeg, Hazzan Isaac J Cabasso, Hakham David Yeshaya Salem, Mr Sam Catton (publisher), Mr Albert Moshe Ashear, Mr Ralph Saul Tawil, Mr Ralph Joseph Sutton, Mr Jack Ezra Hamway, Mr Jack Mordekhai Maslaton, Mr Jack Isaac Hanono 'Ben Dayan', Hymie Kairey, Abraham Ezra Azar (Cohen), Moshe Paredes, Eliahou Belilous, Gabriel A Shrem. In order to publish the book, Shrem needed to be granted full permission from one of the descendants of H Moshe Ashear. Mr Charlie Seruya, the leader of Young Magen David, was instrumental in the sales and distributions of the new pizmonim book.
The people who decided which songs to include from the songs of Raphael Tabbush are: Hakham Ezra Mishaniye, Hazzan Ezeqiel Hai Albeg, Hazzan Ralph Marcus, Eliahou Menaged, Naftali Tawil, Gabriel A Shrem. Only about 60% of Tabbush's book were included in the new publication in order to make room for some of the newer songs.
In 1964, "Shir Ushbaha Hallel VeZimrah" was published by Sam Catton and the Sephardic Heritage Foundation for the New York Syrian Jewish community. There are approximately 600 pizmonim in the 1964 edition, and more pizmonim have been added with each subsequent edition of the book while maintaining the page numbers of the original edition. Post-Ashear composers of pizmonim for happy occasions include: E Albeg, R Elnadav, E Dweck, E Mishaniye, Albert Cohen Saban, M Mustacchi.
In recent years, a wave of Israeli-trained cantors from Knis Ades, Jerusalem, have altered some of the Hazzanut customs of Brooklyn's community. The average community member does not know the difference between the Aleppo and Jerusalem customs. In 1998, Menahem Mustacci and Uri Amram published a new pizmonim book called 'Shirah Hadasha' which attempts to incorporate many modern Arabic songs to Hebrew text.
Eliyahu Bil Carmel
Section
Pizmon
Page
Song
Commentary
Recordings
Application
Mossaei Shabbat
77
94
אליהו בל כרמל
Judeo-Arabic. Mentions the different locations that were the sister communities of Aleppo. Jobar is a place where Eliyahu HaNavi hid.
G. Shrem
G. Shrem

This pizmon is sung every Mossae Shabbat.
Translation by Haim Shayo:

"Eliyahu is in the Mea'ara (cave), we shall light for him the Menora, in his honor read the Torah, us and all his nation.
Eliyahu is in Jobar, his face shines like a precious stone, in his honor read the Zohar, us and all his nation.
Eliyahu is in Halab, his beard is red like gold, may push away the disgraces, may he reunite Israel his nation.
Eliyahu is in Beirut, his beard is red like the (yakout), in his honor the Jews will read [pray], us and all his nation
Eliyahu is in Istanbul, his faces illuminates like the fire, in his presence they will do the circumcision, us and all his nation.
Eliyahu is in Hilla, his face is white like the fill (a white flower), he will do for us the tefilla, and he will construct our holy house.
Lucky is the one that talked to him in words, or saw him in dream, and greeted him and was greeted by him, and saw with his eyes the light of his face."

This is a song in praise and in thanks of Eliyahu Hanabi, therefore it will list places for which there is a tradition that Eliyahu Hanabi was. In Syria, JOBAR was well known as such a place in the Damascus region, and in Halab, it is the Me'arah. This Judeo-Arabic pizmon probably originated in Damascus, although there is more than one version of a similar pizmon.

Alberto Attia recalls hearing this pizmon during his childhood to the melody of "Ben Adam Ma Lekha Nirdam." He writes that if you analyze the pizmon you'll see that the first place of prominence is given to Jobar (Damascus). Now, if one were to be living in Damascus they would likely rank their interaction with the surrounding cities precisely in the order that one observes in the pizmon. Observe that in terms of geography, Halab and Beirut are closest and most important to Damascus [in that order]. Then comes Istanbul and finally Hillah (Baghdad).

Joey Mosseri checked numerous sources in search of "Habib Allah Eliyahu" in the Halabi tradition, and he only found 1 source, and that source does NOT match the one above, printed by Gabriel A Shrem in "Shir Oushbahah Hallel VeZimrah."

The "Habib Allah" that is designated as song 76 on pages 92-94 is 100% Baghdadian as it appears in many Baghdadi sources. The pizmon above "Eliyahou Bi Carmel", designated song 77 on pages 94-95 does NOT appear in Baghdadi sources.

According to Joey Mosseri, from Halabi sources, there is a song entitled "Shikran Eliyahou Hanabi" which starts with "Habib allah eliyahou, 'aziz allah Bar Yohai!" And that line is the refrain after each of the 32 verses of this song. He first saw it in a manuscript of H Ezra Mishanieh, then found it printed by H Abraham Dayan (?-1916) in 1910, who says that he found this among the papers of his father, H Shaoul Dayan (?-1903).